CloverWorks (CloverWorks, Inc) is a Japanese subsidiary animation company from Suginami, Tokyo. It was original named Kouenji Studio under A-1 Pictures owned by parent company Aniplex. The studio was rebranded as CloverWorks in April 2018. In October 2018, CloverWorks separated from A-1 Pictures while remaining a subsidary of Aniplex.

The studio has released 25 projects since its rebranding with an additional four projects - Slow Start, Darling in the Franxx, Persona 5: The Animation, and Ace Attorney Season 2 - changing the credited studio from A-1 Pictures to CloverWorks either during or after their original runs.
Available At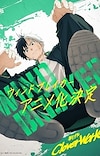 Manga 'Wind Breaker' Gets TV Anime
Production company Aniplex opened an official website for a television anime adaptation of Satoru Nii's Wind Breaker manga on Thursday and revealed a teaser visual (pictured). CloverWorks is animating the series. Nii began serializing the delinquent action manga on Kodansha's Mag...