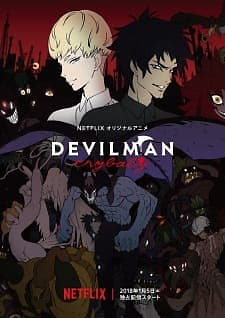 Devilman: Crybaby
Devils cannot take form without a living host. However, if the will of an individual is strong enough, they can overcome the demon and make its power their own, becoming a Devilman. Weak and unassuming, Akira Fudou has always had a bleeding heart. So when his childhood friend Ryou Asuka asks for his help in uncovering devils, Akira accepts without hesitation. However, to Akira's surprise, the place they go to is Sabbath: an immoral party of debauchery and degeneracy. Amidst bloodshed and death, demons possess the partiers, turning their bodies into grotesque monsters, and begin wreaking havoc. In a reckless attempt to save his best friend, Akira unwittingly merges with the devil Amon and becomes a Devilman, gaining the power to defeat the remaining demons. Though it grants him great power, this new partnership awakens an insatiable and primeval part of Akira. Having the body of a devil but the same crybaby heart, Akira works alongside Ryou, destroying those that harm humanity and his loved ones. [Written by MAL Rewrite]
Theme:
Demons
Ping Pong the Animation
"The hero comes. The hero comes. The hero comes. Chant these words in your mind, and I'll surely come to you..." This mantra is what Makoto Tsukimoto repeats as a source of motivation when he fights through the stress of not only grueling ping pong matches, but also in situations of his life. Makoto doesn't fight alone; he and his friend, Yutaka Hoshino, nicknamed Smile and Peco respectively, are two boys who have grown up playing ping pong together nearly every day. Peco, brimming with confidence, aims to be the best table tennis player in the world; Smile, on the other hand, shows little ambition. Nevertheless, the two have always stuck together, with a bond built upon their mutual love for this sport. Every year, students from all across Japan gather for the inter-high table tennis competition to achieve national and international stardom. Through intense training and competition, only the very best persevere. From the avant-garde director of Yojouhan Shinwa Taikei, Masaaki Yuasa, Ping Pong the Animation serves a tale of ambition with its fair share of bumps along the way. Whatever the odds, Peco and Smile will face them together. [Written by MAL Rewrite]
Theme:
Psychological
Demographic:
Seinen
Licensor:
Funimation
TV -
Apr 11, 2014, 00:50 (JST)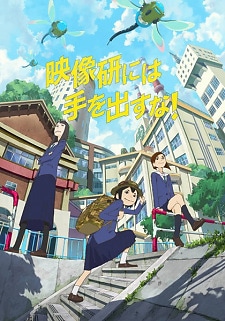 Eizouken ni wa Te wo Dasu na!
Midori Asakusa sees the world a bit differently. Always having her nose in a sketchbook, Asakusa draws detailed landscapes and backgrounds of both the world around her and the one within her boundless imagination. Even the simple act of doodling on a wall evolves into an emergency repair on the outer hull of her spaceship. She is only brought back to reality by her best friend Sayaka Kanamori. The pair are stark opposites, with Asakusa's childlike wonder contrasted by Kanamori's calculated approach to life. After a chance encounter where the two "save" the young model Tsubame Misuzaki from her overprotective bodyguard, a connection instantly sparks between Asakusa and Misuzaki, as both share an intense passion for art and animation. Whereas Asakusa is interested in backgrounds and settings, Misuzaki loves drawing the human form. Sensing a money-making opportunity, Kanamori suggests that they start an animation club, which they disguise as a motion picture club since the school already has an anime club. Thus begins the trio's journey of producing animation that will awe the world. From the brilliant mind of Masaaki Yuasa, Eizouken ni wa Te wo Dasu na! is a love letter to animation, wildly creative in its approach, and a testament to the potential of the medium. [Written by MAL Rewrite]
Theme:
School
Demographic:
Seinen
Licensor:
Crunchyroll
TV -
Jan 6, 2020, 00:10 (JST)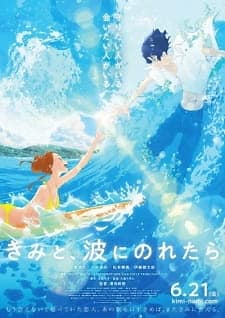 Kimi to, Nami ni Noretara
Entranced by surfing and the sea, Hinako Mukaimizu is a spirited girl who attends college in a coastal city with no consideration for her future career. Her life takes an unexpected turn when a fireworks mishap sets the apartment building she lives in ablaze, where she is saved by a talented firefighter named Minato Hinageshi. Upon meeting, the two quickly become acquainted with one another—Hinako is instantly enamored by Minato's reliable personality and passion for saving others, while Minato is intrigued by surfing and is eager to learn how. As Hinako begins to teach Minato about surfing, the pair eventually fall in love and begin a gentle and devoted relationship. However, while surfing may seem fun and carefree, it can still be a dangerous and unpredictable activity. This is what Hinako learns when a surfing incident completely changes her life, leaving her forced to contemplate her undecided future. In search of her own calling, Hinako begins her journey of self-discovery, keeping Minato by her side as she gradually attempts to find her purpose and ride her own wave. [Written by MAL Rewrite]
Licensor:
GKIDS
Nihon Chinbotsu 2020
The Mutou family leads a peaceful life: Kouichirou works at a construction site and his wife Mari is returning from an overseas trip. Their daughter Ayumu has just finished her track practice while their son Gou is playing video games at home. However, life as they know it is flipped upside down when a calamitous earthquake strikes the entire Japanese archipelago—obliterating the face of the country in an instant. With society crumbling around them and their nation gradually sinking into the ocean, the Mutou family must band together to survive the catastrophe. Treading the near-apocalyptic setting, they struggle not only to stay alive, but also to learn the difficulty of coping with loss. [Written by MAL Rewrite]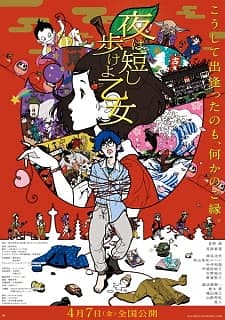 Yoru wa Mijikashi Arukeyo Otome
On a mysterious night that seems to last for a year, an ordinary college student continues to chase one of his underclassmen, a girl with black hair—the girl of his dreams. Up until now, he has been relying on a simple plan, which is to calculatingly bump into her every day while making it seem like a meaningful coincidence. However, his efforts remain futile as their relationship is not progressing at all. Meanwhile, the black-haired girl believes that everything is connected by fate and endeavors to experience as many new things as possible, leaving it all for destiny to decide. While strolling along the lively streets of Kyoto, she discovers that the very beginning of her fateful journey—a book she had as a child—is currently being sold in a second-hand bookstore. Upon knowing this, the college student eyes another opportunity to run into her "by chance": this time, he hopes to get the book before she does and finally grasp the thread of fate that could connect their hearts. [Written by MAL Rewrite]
Licensor:
GKIDS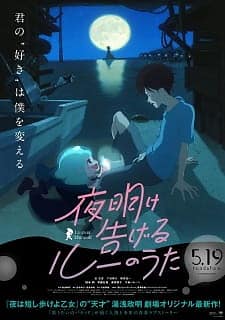 Yoake Tsugeru Lu no Uta
Kai, a young middle schooler, lives in Hinashi Town, a lonely fishing village, with his father and his grandfather, a sun-umbrella maker. He used to live in Tokyo, but after his parents divorced he moved back to his parent's home town. Kai has trouble telling his parents the complicated feelings he has for them, and he's lonely and pessimistic about his school life. One of his joys is uploading songs he writes to the internet. One day, his classmates Kunio and Yuuho invite him to join their band, "SEIRÈN." As he reluctantly follows them to Merfolk Island, their practice spot, they meet Lu, the mermaid girl. Lu sings merrily and dances innocently. As Kai begins to spend time with her, he starts to be able to say what it is that he's really thinking. But since ancient times, the people of Hinashi Town have thought that mermaids brought disaster. Something happens that puts a huge rift between Lu and the townspeople. And then, the town is in danger. Will Kai's cry for the heart be able to save the town? (Source: Fuji Creative Corporation)
Theme:
Music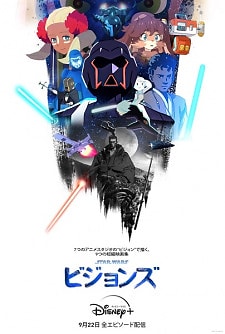 Star Wars: Visions
Presenting all-new, creative takes on the galaxy far, far away, Star Wars: Visions will be a series of animated short films celebrating Star Wars through the lens of the world's best anime creators. The anthology collection will bring ten fantastic visions from several of the leading Japanese anime studios, offering a fresh and diverse cultural perspective to Star Wars. (Source: Disney+)
Yojouhan Time Machine Blues
Yojouhan Time Machine Blues takes place during a sweltering midsummer day when Ozu, the protagonist's "terrible friend," accidentally drowns the only remote control for the air conditioning unit in their apartment. While they discuss their predicament with Akashi, the protagonist's raven-haired love interest, a sloppily-dressed time-travelling student arrives from 25 years in the future, prompting the protagonist to borrow his time machine in an effort to snatch the remote control from the past before it breaks. (Source: Crunchyroll, edited)
Theme:
Psychological
Heike Monogatari
The anime shows the war's events through the perspective of Biwa, a young girl who makes a living as a traveling musician. Though blind, Biwa is gifted with the ability to see the future. She meets Taira no Shigemori, one of the patriarchs of the powerful Taira family, and tells him about prophecy that may change the future of his clan. (Source: CBR) The anime will be broadcasted on Fuji TV's +Ultra programming block in Winter 2022. Funimation will stream the anime in advance on September 15 whereas FOD (Fuji TV On Demand) and bilibili will stream the anime starting September 16.
Theme:
Historical
Licensor:
Funimation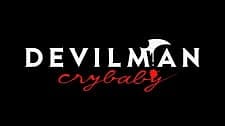 Devilman: Crybaby - Digest Eizou
A short web recap of the Devilman: Crybaby series, posted on Aniplex's official YouTube channel.
Theme:
Demons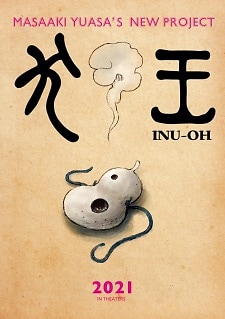 Inu-Ou
Inu-Ou is born with unique physical characteristics, and the horrified adults cover every inch of his body with garments, including a mask on his face. One day, he meets a boy named Tomona, a blind biwa player, and as Tomona plays a delicate song of tangled fate, Inu-Ou discovers an incredible ability to dance. Inu-Ou and Tomona become business partners and inseparable friends, using their creative gifts to survive on the margins of society, as song after song gain them notoriety and propel them to stardom. Through the songs, Inu-Ou mesmerizes his audiences on stage, and gradually begins to transform into someone of unequaled beauty. But why is Tomona blind? Why was Inu-Ou born with unique characteristics? It is a story about the friendship of Inu-Ou and Tomona, who dance and sing to get to the truth and break each other's curse. (Source: GKIDS)
Themes:
Historical, Music
Super Shiro
Spin-off series of Crayon Shin-chan franchise, featuring Shiro. Commemorates 60th Anniversary of TV Asahi.
Demographic:
Kids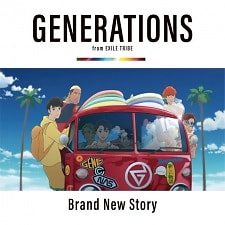 Brand New Story
Music video for the song Brand New Story by GENERATIONS from Exile Tribe.
Theme:
Music