December 9th, 2007
Review: Hataraki Man

Welcome to the "slice of life" genre. Normally I would love to make fun of such series, as they are usually full of unnecessary drama and angst. However, in the case of Hataraki Man, I came out very pleased. It's a short series, only eleven episodes long, so don't expect a heavy plot. In fact, there isn't much of a cohesive plot at all. Instead, each episode is a look into the lives of the "working class." Roughly translates, Hataraki Man means "Business Man," which in itself is a kind of joke. While there are a couple of episodes that are exceptions, most revolve around the lives of the journalist of JIDAI, a weekly magazine publication that covers everything from trendy gossip to political exposés.

The Characters


Matsukata Hiroko is our title character, and the butt of the joke of the series name. This is actually possibly one of the most amusing aspects of the series. It's a long running gag within shounen eries that characters are able to use "power-ups" to do the most mundane of activities. My favorite example is, Prince of Tennis. It doesn't take a long stretch of the imagination to think of how this series applies power-ups to its Tennis-centric plot. The slice-of-life version of this is being applied in Hataraki man, though it is a gag that eventually fades away for some more serious issues.

For now, let me expound further: for Hiroko, being "the working/business man" is a state of mind, and it isn't something she is always with (though I would argue this point to a degree.) There are certain times in the series where Hiroko has reached a deadline or has been given impossible writing tasks for whatever reason. When this happens, she switches to "Hataraki Man" mode. As the series explains, she puts aside all personal care for food, water, sleep, and even personal hygiene in order to get the job done. As I said, it's a state of mind, and she zones in completely on what her tasks is and drowns out the rest of the world until her job is completed.

However, while this ability is downplayed for a large part of the series (it shows up in the first couple of episodes and then only makes an appearance once or twice more in various spots) the concept of Hiroko bei
ng called the working man is very important. On the episodes that focus in on her as a career woman, you get to see the problems that arise for her being a woman working in a "man's world." One of the biggest underlying plots/reasons is her relationship with her boyfriend, Yamashiro Shinji (see below.) It's a rare occasion to see the two of them together, just because they're both very dedicated to their jobs. One of the running jokes is how often Hiroko is going without sex, even with her steady boyfriend. More on Shinji below, because his relationship with Hiroko is a rather...odd one, if only for his personal feelings on the situation.

There are other problems that arise for the work ethic Hiroko has. Again, her femininity and womanhood are often questioned by both other members of the JIDAI and by random characters within the series. One of the issues of this series, one that is a fairly serious one considering the medium being used, is: Can a woman, Hiroko, be both dedicated to her job and still be considered a woman? They call her "the working man," but does that title mean that everything associated with being a woman (let's not forget we're in Japan in this series, so there are some cultural aspects to take into consideration) will be sacrificed?




Yamashiro Shinji could be considered the average "Japanese Businessman," except he's not so good at it. While both he and Hiroko are definitely dedicated to their job (as I mentioned above, they hardly see each other due to career obligations), Shinji is definitely less secure about his abilities. He's in the construction business but soon finds himself being transfered to sales, a job he is obviously not happy with. I have to say, I'm definitely getting a bit of a stigma with the name Shinji, as it is often being applied to mostly spineless characters (referencing the famous Ikari Shinji from Neon Genesis Evangelion). This Shinji is pretty voiceless in many areas and this leads to lots of problems with his relationships with Hiroko, who he begins to feel jealous and contempt for as he only sees her succeeding where he is failing. For the most part, though, Shinji takes a backseat to Hiroko and the other members of JIDAI and considering his character, this is probably the most appropriate.

Now for the staff of JIDAI, some are more important than others; but all pretty much get some spotlight or another, so the order I'm going to put them in doesn't make much difference.
Umemiya Tatsuhiko is the chief editor at JIDAI; and don't let the picture confuse you, he has no relation to Major Armstrong at all. The sparkles aren't a regular occurrence either, he's just drunk in this picture and somehow that is equated with sparkles. Makes sense to me...anime physics and all. Tatsuhiko doesn't get a lot of focus. He's an older man who seems to be a bit senile at times. He also gets berated a lot, usually by Nagisa Mayu (see below) for being sexists. While Tatsuhiko seems to take very little serious, there are times where it is very clear why he's the chief editor. He takes responsibility for many of the more controversial articles and by doing that, he allows them to be printed where they were otherwise would not. Watching this series, I often got the impression that he wanted the other editors to take care of business without necessarily having to depend on him; though that backfires a lot as Narita Kimio (see below) often leaves him out of decisions altogether. He is also very susceptible to flattery.
Narita Kimio is the desk editor at JIDAI and the next step down in the editor hierarchy from Tatsuhiko. He's also the series' token gay man, as we find out; though, don't worry, that is brought up once (in response to why he wasn't already married) and never brought up again. Narita is an odd man as he's both rather laid back and a "hard ass" at the same time. Or rather, he knows when to be what: a friend or a boss, and is very good at discerning between the two. I have to say, I would love having him for a boss for that reason.

Narita, too, doesn't get a lot of focus. Both he and Tatsuhiko, I believe, have to approve stories and layouts for the weekly articles and that is basically the only context you really see him on screen. Narita is one of the people that depends on Hiroko the most. He doesn't fall into this issue of questioning womanhood for being a career woman, instead, he sees that she is a dependable, very intelligent writer and he embraces that. In fact, Hiroko is often asked by Narita to pick the slack for other members (see below), as well as giving her opportunities that the others in the editorial department don't get (like a special release magazine that is completely her own to work on, edit, and get published through the company.) He's a very likable guy. He gives Hiroko opportunities without babying or coddling her, and she, in turn, runs with those opportunities and makes the most of it.
Tanaka Kunio is the rookie editor at JIDAI and one of the banes of Hiroko's existence. Kunio is very much in the mindset that one should enjoy life to its fullest, and while working is a requirement of life, that doesn't mean one should only work. This is obviously very contradictory to our "Hataraki Man" who will often put her whole life on hold just for a good story. Kunio is a bit lazy but extremely clever. He never volunteers for extra work, and his finished work gets thrust onto Hiroko's desk more often than not for extra editing. However, his article proposals are usually accepted and his popularity as a writer is high due to the online research he does of past articles written; specifically those written by Hiroko.

Kunio is another person who doesn't get a whole lot of attention (though in the first episode that isn't apparent) but you get enough mention of him due to the things that are given to Hiroko because of him. He's an interesting character, and the show seems to be implying that people like Kunio are the new "working men" of the future and that this lax, laid back attitude will soon become the standard in businesses. It's hard to figure out if they mean this as a bad thing or not. Obviously, Kunio gets reprimanded a lot, but at the same time, he gets his job done and he does it relatively well. I think the focus is probably on the utilization of different technologies to get the same job done. Hiroko is the type of person to jump in head first with tons and tons of research from the stacks; and Kunio just looks up things online. Or, I could just be reading too much into things.
Kobayashi Akihisa is the "porn and food" editor for JIDAI. This amuses me in itself, though Akihisa isn't really what you'd think of him. He and Hiroko joined the magazine at the same time, so there is a bond between them--though whether it's from that fact or the fact that they both have a much stronger work ethic than the younger generations, it isn't clear. Akihisa is often Hiroko's drinking partner, something which lends him to bringing her home drunk. He's a very odd character because he doesn't seem excessively demure, but there does seem to be a quality about him that is more likely to allowed to be used. Though there is some speculation if he is "being used" or just enjoys helping people out. This would certainly explain the relationship between Hiroko and he. Of all the people at JIDAI, he is one of two people that, from start to finish, I can definitely say is Hiroko's friend; and, as we learn, is one of only four friends she has in general. So while he doesn't get a ton of attention, his importance is there.
Nagisa Mayu is also an editor of JIDAI and the other person at the magazine that is Hiroko's friend from start to finish. She's more than just a little obnoxious, and as we find out, a fangirl--though not of anime, but of a particular romance novelists. I can't really think of much to say about Mayu, though I also can't figure out quite why she was able to make an editor position. While she isn't a complete push-over (she's the one who often sticks it to Tatsuhiko for his sexists comments) but she isn't the most competent of people either. This is actually made a point of when the job she really wants, being the personal editor for her favorite author, is given to Hiroko. Hiroko is more able to deal with the author and push her towards her goal (and the deadline). I suppose the point of Mayu is to be the friend and antithesis of Hiroko. Both women do have goals though, and that is probably one of the facts that binds them so closely. Hiroko wants to be the editor of her own magazine, and Mayu wants to write her own fiction with her favorite author. For all the problems she has at the magazine, Mayu can be credited for being very astute and observant. She's possibly the only one who picks up on the issues between Yumi and Maiko (see below) and this is speaking from a group of very highly trained and revered journalists.
Nogawa Yumi is the sports editor at JIDAI, which seems odd in itself as Yumi is considered one of the two very feminine women within the series. She got this position because she became the sole contact of an up-and-coming baseball star. Though this position starts many rumors of how she got this position, one of which was that she was sleeping with the baseball player. This is an even bigger scandal considering Yumi becomes engaged earlier in the series (to her boyfriend whom was earlier dating another woman for 8 years.) Hiroko, however, sticks up for Yumi by putting down the men who are accusing her of such things. This backfires for Hiroko as both the men, and seemingly Yumi, turn against her and do as much as they can to make her life a living hell.

Yumi, like Kunio, seems to have a theory of life that it's better to go with the flow of things. Yumi especially uses this towards being a career woman. Unlike Hiroko, Yumi chose to play up her image as a woman to survive in the career world; and this is something that causes problems with her female coworkers.
Kaji Maiko is, you guessed it, yet another editor at JIDAI. She's also one of the women characters who plays up her image of femininity for her career. Maiko is basically worshiped by the men in the office, something that Hiroko and Mayu get upset over. Why? Well it's pretty obvious that Maiko gets special treatment, and gets away with certain things because she's an attractive woman. While Hiroko and Mayu get yelled at for professional mistakes, Maiko doesn't get reprimanded at all, and that in itself causes problems. Yumi, too, feels that this is inappropriate but she and Maiko often avoid each other.

There is some indication that it is Maiko's boyfriend that Yumi "steals" and eventually becomes engaged too. Maiko is rather detached person, and while we do get to learn more about her, we never see more than that outside appearance she gives. She does end up giving Hiroko some of the best advice that applies to both her life outside of work and within it. (I won't say what it is, you'll have to watch the entire series to find out.)
Sugawara Fumiya is probably my favorite character of the entire series. He's irate, angry, and yet completely dedicated to his job. He has a very gruff personality, and I think that is why I like him so much. He would be considered a paparazzi to us. He finds scandalous scoops and then stakes out at appropriate places to get the picture/story. Sugawara feels very strongly about his job; however, and gets very angry at people who look down on him forit. The various editors have to take turns helping with stake outs, something that often pisses Sugawara off. He especially holds grudges against women joining him, and even more so women like Hiroko. It seems he had bit of a misconception of our "Harataki Man" and they tend to butt heads a lot. However, by the end they seem to be on more acceptable terms.

Overall the series is good. Depending on how you take it, Hataraki Man can be a series filled with lots of underlying plots and issues; or it could be just a light-hearted, "slice-of-life" comedy; and while I may recommend this to some people, I think you really have to enjoy this type of genre to really get into it. I liked it, though I'm not entirely sure if I could rewatch it.

Review: Black Lagoon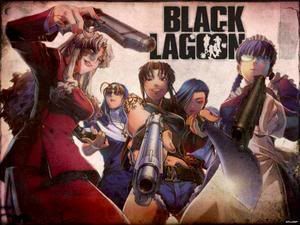 It's never a good thing when you can miss three episodes in a series, not pay attention to another nine, and still feel that you got the basics of the anime. For that reason though--I may not be the most qualified to give a review over Black Lagoon. Now granted, I did watch all of season one, it was season two that decided to quickly take a turn for the WTF?! For one thing, I'm glad I missed the transvestite vampire arc, I hear it was even more odd than the mushroom episode of
Samurai Champloo
--and that was quite the mind trip.
Just a quick note before I get started: I'm trying to supply pictures for each character; however, there is a slight problem with Black Lagoon. That would be, unless it's Revy showing off her butt in near obscene cut-off shorts (really, even
Daisy Duke
would be agasped), it seems that the images for the characters in this series are near to none. I'll try to supply what I can, I apologize ahead of time if the quality is poor.
So here are the basics you should know (i.e. the main characters & such):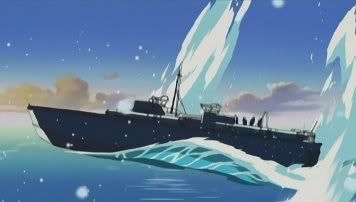 The actual Black Lagoon is a boat, owned by Dutch; and I'm sorry to disappoint those old, horror movie fans (or just
Mystery Science Theatre 3000
fans) there are no "
creatures
" from this Black Lagoon...unless you count Revy. Dutch, for all intensive purposes, is this ship's captain. Benny, the blond, nerdy looking fellow is in charge of communications and other technological business and Revy is the fighter (aka the "muscle".) Rock is...well, Rock is a Japanese salaryman and remains so pretty much the entire time. The only really good part of season two, I think, is that Rock has to begin rethinking who he is while onboard the Black Lagoon. His ultimate conclusion is very...well, Rock like.
I believe the crew of the Black Lagoon would protest being called pirates, instead they're a "delivery" crew (think:
Futurama
, if you so desire) who work, for the most part, on orders of the seedy Hotel Moscow.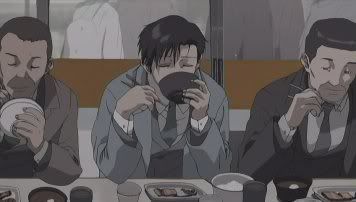 Rock: While Revy often steals the show with her sheer bad assery, the main focal point of the series is definitely, in my opinion, Rock. To begin with he's just an "average" salaryman. He gets walked over by his bosses and really is just the typical doormat character; and seems to remain so through many of the first few episodes. He finds himself on the Black Lagoon after being kidnapped for transporting a disc for his company, one that Hotel Moscow wants. We find out quickly how out of place Rock is on a ship (or in any fighting situation) when he throws a gun at a helicopter--as if that would actually hit the enemy. It's amusing, to the say the least, but Rock angry and upset doesn't seem to be the most practical of thinkers. However, he turns out to be just what the Black Lagoon needs--a pragmatic strategist--or well, a "people person" really; because let's face it--Revy sure as heck isn't. She'd just as soon shoot you than deal with you. But Rock proves his usefulness on several occasions during the first two arcs, and slowly builds relationships with the other crew.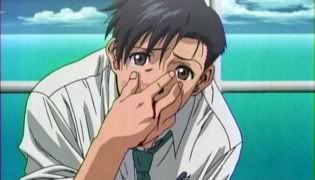 The downside about Rock, but probably a plus for the series, is that Rock is very hard to give up his old ways. He always wears his salaryman outfit (and not Revy's gift of Hawaiian shirts) and that, to me, symbolizes a lot of how attached to the person he was before the Black Lagoon. In the second season, they often mention the fact that Rock is in the "twilight," a fact that is important to who Rock is. He, and Benny to a degree, aren't the type of people Revy and Dutch are. They both have a conscience, and while Benny seems to be a bit more laid back about ignoring his, Rock time and time again remains steadfast in his beliefs; even to his hatred of guns, no matter the business he found himself in.
This attachment to his salaryman past can make him a frustrating character, as it makes it seem that he has little character development; but he actually does. There are several occasions where he stands up for what he believes against some very fierce, scary people (including Revy and the head of Hotel Moscow--someone even Revy doesn't seem too eager to go against.) So he does change, a bit, it's just slow. However, I think Rock changing to be a master of bad assery like Revy and Dutch would be wrong, and so I appreciate this series for the fact that they kept Rock who he is. He's not infuriatingly wimpy, like a lot of people find Shinji from
Neon Genesis Evangelion
(something I don't agree with, but I won't go into that); instead he stays true to his nickname (Rock isn't his real name, it's what the Black Lagoon crew end up calling him.) For the most part, I have to say I'm quite the fan of Rock. He reminds me some of Seras Victoria in
Hellsing
; they're both in a position where change for the worse is quite possible, but they both want to hold onto their humanity as long as possible. It makes you wonder what would happen if those two bred. Or maybe just fight. My prediction: they'd call a truce and have a smoke. (There is a lot of smoking in this series; the opening credits by itself is probably filled half with just images of them with cigarettes.)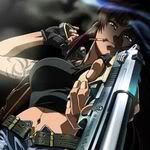 Revy: Otherwise known as "two hands,"for her ability to sharpshoot with both hands. Revy, one of the characters who uses the obscene excuse for English [see below] in the second season, is a skilled fighter. Her main weapons are two pistols, complete with little pirate emblems, she keeps holstered on the side of her chest. (I would like to point out right now that I know nothing of guns. So if I greatly butcher something, I apologize.) Revy, we know, comes from a rather messed up past. She grew up, I believe, in New York and lived in such a state of poverty that, in order to survive, crime was her only option. She is the way she is, supposedly, because of her harsh childhood. Seems like a poor excuse, if you ask me, I mean come on--
Naruto
had a pretty horrible childhood but do you see him going out fighting on any occasion possible...oh wait, er--scratch that.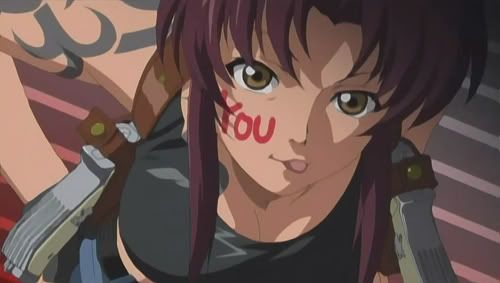 So Revy is the muscle of the Black Lagoon. She can take out six boats by herself, not to mention a ship brimming with Nazi soldiers. She has a bit more trouble with an overprotective nanny/maid and an one-eyed nun, but she's bad ass all the way despite those difficulties. You do get a glimpse into her life on many occasions, but her one of her many role seems to be for fanservice. She does wear, as mentioned earlier, short-shorts (which miraculously stays on even when not fastened in anyway...yeah, I know "anime physics") and a cut off shirt. She can also shoot a clip each from her pistols and take out everyone; while the other guys can't seem to hit a thing remotely close to their targets with their machine guns. She does have some relationship breakthroughs during the course of the series. She and Rock reach an...understanding, if you will. Revy isn't really a "dating" type of person, nor are there any real indications that such a relationship would occur between the two; but there does seem to be some level of attachment between them, even as just "partners" in crime. She also becomes rather sadistic friends with the gun-toting nuns--but that relationship is a bit rocky at best.
I have to note, a good thing about season two is that she does put on more clothes (a full, though still form fitting sweater, a skirt with leggings underneath, and cowboy boots) and her accuracy seems to go down to a little bit more realistic rate. This leads me to believe that Revy's god-like accuracy is directly connected with the amount of clothing she has on. Obviously, no one could stop her if she went around completely naked...but that would make for a completely different series (and genre) and so we'll stick with what we have.
Dutch: For all intensive purpose, you could say Dutch (often called Dutchy) is the "token black man." He's an awesome character and is probably the only person to really be able to connect and dominate over Revy. He keeps her in line and it seems that he is also the only one who would hire her (she does tend to go insane). Unfortunately, Dutchy doesn't make a huge appearance in the second season--something I was quite sad over, as I love Dutch (his Japanese VA just makes me want to drool.) And while he is the boss of the Black Lagoon, he doesn't have as much background (or characterization) as Rock, or even Revy. So while you can appreciate the large, black man kickin' butt and taking charge, as a character--he's incomplete.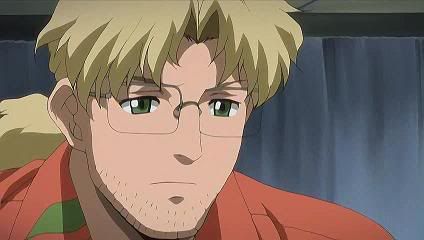 Benny: Often referred to as Benny-Boy, this geeky looking blond is the technician for the Black Lagoon. He is much more suited to the Hawaiian shirts than Rock. He, like Dutch, doesn't get a lot of background or characterization; though we do find out in the Nazi arc that he is Jewish. Like Rock, however, Benny doesn't really seem to belong on the Black Lagoon. He isn't a fighter, something he states at the beginning, but he also is by no means a character who is in-between worlds, like Rock. He is fully immersed in the underground world the Black Lagoon works in, and that is the main difference between he and our Japanese salaryman. Benny doesn't have much air time during the second season either, though he does find himself a girlfriend--one who is surprisingly similar to him, actually.
For season two, there are some different characters that become more...important, but I'm leaving that season alone. For one--an excessive use of
Engrish
made it very hard to take anything serious. Though, if anything, one of the draws of this series is that it isn't a serious, action anime. Yes, there is a lot of shoot outs, car chases, and open sea battles, but there is also a lot of comedy that cuts between the action that makes it more enjoyable and easier to watch.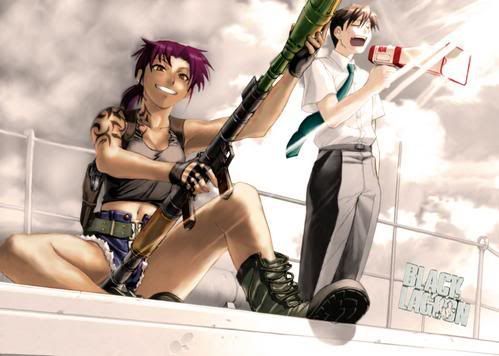 Another draw is that this series doesn't have one long, continuous plot; instead, there are small three to four episode arcs. While there are general consistencies, and reoccurring characters from certain arcs, for the most part each storyline can be taken completely separate from each other. It is much easier to swallow all the craziness that happens when it is done that way; though, again, the vampire arc seems to be the exception to that rule.
Overall, this series is...interesting. I enjoyed the first season, though I did watch it with my local anime club and that made it all the more fun. For a series with very little plot and character development, it's decent. It's not one of my top ten (or top 100, even) but if you're ever just in the mood for some action and very little deep character or plot development, then I would check out this series. If anything, season one is definitely worth the laughs you get.
Review: Ouran High School Host Club
Welcome to the Host Club.
(Warning: Contains spoilers for the first episode)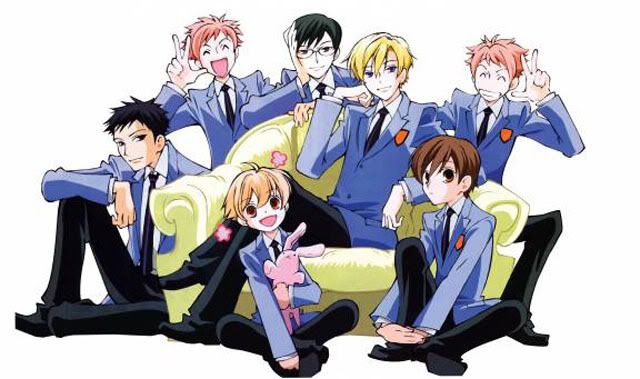 From one Haruhi to another, Ouran's Fujioka Haruhi is much less odd. In fact, while Haruhi is definitely quirky, she is one of the more normal characters within the whole series. The series is set around the premise of a high school
host club
, an extracurricular set up to entertain the wealthy, impassioned, and bored female population of the school.
The club contains seven functioning members whose soul purpose as hosts is to charm, bewitch, and sweep their customers off their feet. Each member, save the twins, has a unique style that is attributed to them, or rather, is marketed to the girls/women. One of the great things about this series is that each "style" is actually a parody of anime genres. Indeed, for fans of the series
Fruits Basket
, you'll notice the same voice actor (
Ayaka Saito
) is being used for both Honey and Momiji. The parodying aspect of this series is one of the reasons why it rates easily in my top ten.
The Host Club sets themes and moods for each day they host their customers (remember: they're extremely rich!) From a police station to a tropical island, the Host Club cares not for the expense of their endeavors for their customers (though certainly Kyouya knows every cent being spent, and knows where all that money is coming from too). As long as the girls are happy, Tamaki's motto would be, than no cost is too great.
Let's meet the characters (and their host club style):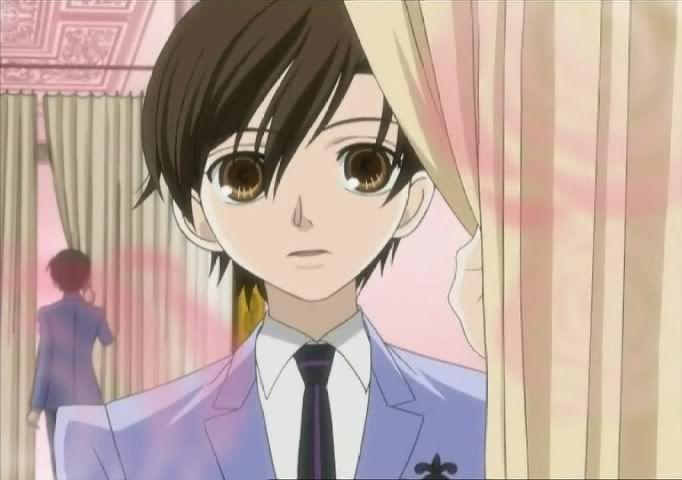 Fujioka Haruhi: Our seemingly androgynous main character, Haruhi is the "special student" (read: on scholarship) who has entered the prestigious (and expensive) Ouran High School so that she can "meet her goals." Haruhi is a bit of a paradox. She repeatedly proves herself to be very perceptive. She is one of maybe a handful who can tell the twins apart [see below] and she can pick up on things around her that others are completely oblivious to. However, on the flip side, she is also extremely dense--hence the paradox. It's usually when things have to do with her, especially people's feelings/affection towards her, that Haruhi seems to be utterly clueless. Beyond the paradox, Haruhi is a very strong, sarcastic character. Her mother died when she was much younger, leaving her to take care of her cross-dressing father, Ranka. Her father's occupation (an
okama
) leaves Haruhi less self-conscious of her gender than most--which is why in the first episode, she is mistaken for a guy. She joins up with the Host Club after incurring a debt by breaking a vase. After it is found out that she makes a cute guy, she's put to work as a host to help pay off her debt. She is the "natural rookie." (And yes--Haruhi's gender is kept a secret, since playing host is more advantageous for paying off her debt.)
Suou Tamaki: Enter the Host Club founder, president, and self-declared "king." Tamaki is obnoxious, suave, and delusional. He has a way with women that makes him the most requested host in the club. He seems like a very shallow person, but throughout the series there are glimpses that this half-French, half-Japanese teenager has more depth than most of the other characters in the series. He has an unhealthy obsession with Haruhi, though he's a bit blind to his true feelings for her. Instead, he uses the misnomer of his feelings being of a "father and daughter" type. Throughout the series, Tamaki refers to himself as "Daddy," the role of mother is assigned to the Host Club's vice-president, Ootori Kyouya (he takes it much less seriously than the melodramatic Tamaki). After adding Haruhi to the host club, a "commoner" by all means compared to the elegant population of Ouran, Tamaki becomes enamored with the ways of the "commoner," including instant coffee (inevitably the official drink of the Host Club), and simple games like kick the can. Tamaki is the "prince."
Ootori Kyouya: Tamaki's best friend, co-founder of the Host Club, the vice-president, and the "shadow king." As Haruhi finds out quickly, while Tamaki is the president of the Host Club, it is Kyouya who really runs the Club (and suggests many of the themes used). The "glasses character" is the third son of a wealthy family that deals with medicine, hospitals, and secret police. Kyouya can rarely be found without his notebook, where he seems to keep information on every person in the school (family business, family, likes and dislikes, etc; probably even down to colour underwear their have on that day--he does have an army of secret police at his disposal). Like Haruhi, Kyouya is very good at observing his surroundings, and it is he, from the beginning, that knows of Haruhi's true gender (the others figure it out on the way, with Tamaki being the last). There seems to be a lot of unrest with Kyouya. As stated above, he is the third son and due to this will not inherit anything; instead he's expected to back up his older brothers in their endeavors. This is something that never sits well with him and it is through his friendship with Tamaki that he begins to see beyond this set design for him. Kyouya seems to have an interior design for everything he does, including the friends he keeps, but it is both Tamaki and Haruhi that question this idea (and make him question it too). Kyouya is the "cool" type.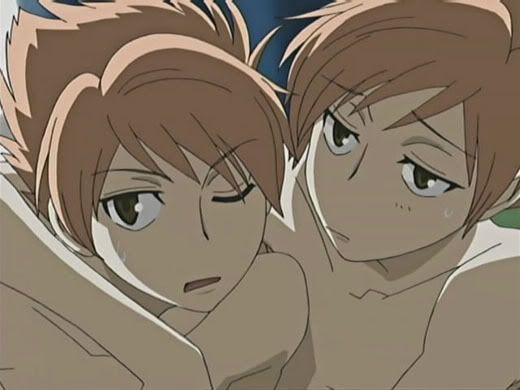 Hitachiin Hikaru and Hitachiin Kaoru: I feel bad just lumping these two together, especially since there is a big deal made about their being separate people. As you can see they're identical twins. They are the two characters that I find the most humorous, mostly due to fans response to them. Their selling point is "brotherly-love;" and yes, that means
shonen-ai
but for those people who are already freaked out, remember this is a parody of genres. The twins are off in their own world, they treat life as a game and when they get bored with certain things (or people) they simply toss them away. They have little regard to anyone's feelings outside of their own. Similar to Kyouya's attitude, the world outside of their existence together is simply there to amuse and entertain them. Separately, the twins have subtle differences (other than just their hair and voice actors.) Kaoru, "the uke," seems to be more aware that their walls are beginning to crumble within the Host Club (especially around Haruhi--the only one, save maybe Kyouya, who can tell them apart easily). He also seems to be more accepting of this change. I would also venture to say that Kaoru is the kinder of the two. On the other hand, Hikaru, the "seme," is abrasive, oblivious, and crass. There are also hints that it is Hikaru who, even though both twins mess with Haruhi, has a possible crush on the only female host. The twins are devious and love messing with people, but like most people in the club, there are deeper parts to them: reasons why they are the way they are, and, through the course of the series, one begins to understand more about them. The Twins are the "little devils."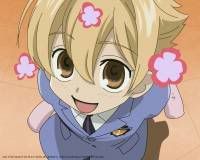 Mitsukuni (Honey) Haninozuka: Now just try and tell me you don't coo over that face? Or you would, until you found out that was the face belong to a high school senior. Oh yeah. Honey (called Mitsukuni by only Mori [see below]) is one of two seniors in the club, though his appearance far from agrees with that. He is also possibly one of the strongest people in Japan, in the Ouran-verse; having already surpassed his father's strength as the head of his family's martial arts dojo. Honey loves anything cute and sweet--including but not limited to his constant companion: his stuffed, pink bunny, and cake. And more cake. And even more cake! He really likes his cake. So much that his own brother thinks he is an alien for eating so much cake (seven, multi-layer cakes in one sitting...that's not strange, is it?). However, don't let the sweet facade fool you. Honey can be quite scary, especially in the morning (similar to Kyouya, in that aspect). He is also very perceptive. While he rarely gets to show it, there are moments where it is Honey who seems to be the only one (save maybe Mori) who can see the maze of relationships within the Host Club. Honey is the "loli-shota" type.
Takashi (Mori) Morinozuka: Mori is the other senior in the Host Club. Like Honey, Mori is also a martial arts expert, though not nearly as strong as Honey. The two seniors have an interesting relationship, to say the least. Mori's family had been servants of Honey's for a long time and somewhere along the way, they became intertwined. Mori and Honey are actually cousins, though the "servant bloodline" still seems to run through Mori, as he is often looking out for Honey. The silent, gentle Mori can rarely be found without his cousin, in fact, he doesn't do much of anything without Honey in mind. There is little doubt that Mori would have not joined the Host Club had it not been for Honey wanting to join. Mori is my favorite Host (there is another character in this series I adore, but you'll have to watch to find out about him.) He is, however, probably the most shallow of characters--not because his personality is like that, more because he is one of the few that never really got any character development. Though, I suppose you could say, all there is to Mori is Honey--though certain actions from the tall senior hint that he has affection (platonic or otherwise) for Haruhi. She certainly is one of the few to figure him out--but she does seem to do that with many of the characters. Mori is the "wild" type.
Those are the main characters, though certainly not the only. I've mentioned Fujioka Ranka (Haruhi's father), but there are also reoccurring characters like Houshakuji Renge (the
otaku
/host club manager), Umehito Nekozawa (the acting president of the Dark Arts Club), and the rivaling Zuka Club from the all girls school: St. Lobelia. The cast, both major and minor, all have little quirks that fills this show with its combination of both side-splitting humor and serious undertones. Oh--and beware banana peels.
Some of my info came from the site,
For Richer or Poorer
. This site, completely dedicated to Ouran, is very well done. While I recommend the Anime News Network and Wikipedia articles as well, this fan site has an in-depth collection of information that I highly recommend anyone interested (or current fans) checking out.
Review: Melancholy of Haruhi Suzumiya
Personally, this series is one of my top ten favorite anime; a bit strange since another of my top ten [
Ouran High School Host Club
] has a main character of the same name. This rather...odd anime series is actually based off a "light novel" series called
Haruhi Suzumiya
and is translated over to a 13 episode format that is anything but boring. I will warn, if you're easily confused, this may not be the series for you.
It's hard, I have found, to come across a 13 episode series that is able to pull off good character development, and plot development within the small time alloted them. I'm not saying that Melancholy actually accomplished both of these, but the craziness of Haruhi more than makes up for that fact.
The title character of this series is a high school girl who is anything but normal. On her first day of school, she declares, in front of her entire class, that she will only associate with "aliens, time travelers, and espers" only. This is a surprise to the entire class, especially Kyon [another one of our main characters] who has just declared at the beginning of the episode that he no longer believes in any of those things.
It turns out Haruhi is a bit of a hypocrite in her words, as she eventually befriends her classmate, the ever sarcastic Kyon. Possibly one of my favorite anime characters in any series, Kyon often does voice overs on his views on the oddity that is Haruhi. He is usually embarrassed by the things he gets dragged into because of her, but--while he does protest--he never actively tries to get out of the club or to disassociate himself with her.
Eventually Haruhi ends up dragging Kyon into creating a club. Enter: The SOS Brigade! The SOS is actually an acronym of "
S
ekai wo
O
oini Moriagerutame no
S
uzumiya Haruhi no Dan" [translated to: "Haruhi Suzumiya's Brigade to Greatly Enliven the World."] Sound like a good idea, ne? Except that no one, not even Haruhi, exactly knows what the SOS Brigade does.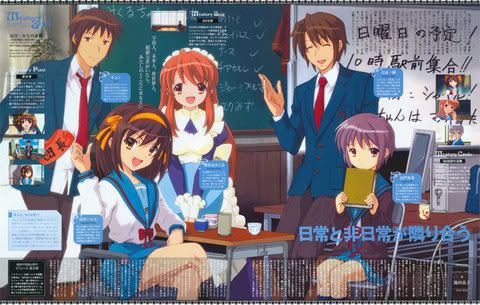 There end up being five members of the SOS Brigade, including Haruhi and Kyon.
Yuki Nagato is roped into the club by pure misfortune of location. The literature club only has one member, Yuki, and Haruhi confiscates their club room, its member and all, for the uses of the SOS Brigade. The silent Yuki doesn't protest, no matter what Haruhi cooks up for them all.
The next is Mikuru Asahina. A slightly annoying character with big breasts, she is brought into club to attract people--especially guys. She's older than the other members of club, but her rather weak personality makes her a victim to all of Haruhi's desires--including dressing her up in just about everything under the sun from a bunny girl to a frog.
There is a bit of a dual relationship with Kyon and Mikuru. While there is obvious attraction from "episode one" of this series on Kyon's side, there is a competing relationship between Haruhi and Kyon, from Haruhi's side. It's an odd triangle, and by the end, [if you go chronologically, see below] there are still some things that aren't quite clear on who Kyon actually "likes." However, this complexity adds to the characters and plot a bit, so it's a welcome confusion, in my opinion.
The last member to join the SOS Brigade is the "mysterious transfer student." Koizumi Itsuki is a rather pleasant man, described by some as being a "yes man" to Haruhi. True, he very rarely goes against anything she says [unlike Kyon who is usually the first to protest the minute an idea comes out of her mouth.] Koizumi is a pretty laid back guy, he seems to be always smiling and a rather fun personality. Of all the members, it is only he that seems to willingly be in the club and enjoying it--minus Haruhi, of course.
While these characters are all very important to the universe that is Haruhi, it's Haruhi herself that makes this series what it is. Think of her as an ultimate rejector of realities. I can't explain too much without giving away some fun spoilers, but it is important to remember, Haruhi is very specific about who she hangs out with, and while Kyon may be an exception the others may not be.
Haruhi's outlook on life is unusual and life around her tends to be the same, something all of the SOS Brigade finds out. Life is never dull with this quirky high schooler around, or possibly because she is around. This series may be filled with a series off odd events, people, and circumstances; but the one key factor to them all is always Haruhi.
It's important to note that the series doesn't actually go in chronological order. The "first episode (labeled episode 00) is actually the 11th episode, chronologically speaking. Due to this fact, I recommend watching through the first and second episode (the second is chronologically the first) before deciding on continuing the series or not. Episode 00 is strange, to say the least, and not an accurate representation of the entire series. For a complete list of the airing order and the chronological order, go
here
. Anime News Network, has kindly listed it out for anyone who is curious (or just confused.)