July 22nd, 2012
★ ☆ Favorite Songs 2012 [in no particular order]
Sakamichi no Melody // YUKI
Sakamichi no Apollon OP - 07.22.2012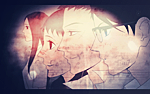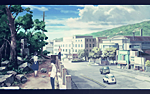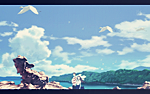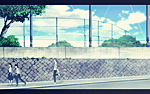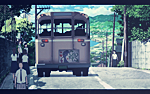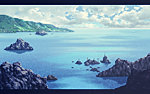 Sora wa Takaku Kaze wa Utau // Luna Haruna
Fate/Zero Season 2 ED - 07.23.2012
★ ☆ Top 50 Anime Songs of 2010 [opening & ending & insert]
Top 50 Anime Songs // 2010
Opening & Ending & Insert
I saw this piece of paper dating back two years ago while cleaning. It contains my Top 50 OP/ED/IN anime songs as of 2010!
I was looking for it for like forever. Now that I have finally found it, here is the list:
# 50 : "Futatsu no Kodou to Akai Tsumi" by ON/OFF (Vampire Knight OP)
# 49 : "Hare Hare Yukai" by Aya Hirano, Minori Chihara, and Yuko Goto (Suzumiya Haruhi no Yuuutsu OP)
# 48 : "Rinne ~Rondo~" by ON/OFF (Vampire Knight Guilty OP)
# 47 : "Rolling star" by YUI (Bleach OP5)
# 46 : "Zutto Kimi ni Soba de" by Yuki Masuda (Flame of Recca ED2)
# 45 : "Rainbow" by ROUND TABLE feat. Nino (Aria the Animation ED)
# 44 : "Special Days" by Yuko Goto (Special A OP1)
# 43 : "Itooshii Hito no Tame ni; For My Darling" by Akemi Satou (Fushigi Yuugi OP)
# 42 : "Ohayou" by Keno (Hunter x Hunter OP1)
# 41 : "F.D.D" by Kanako Ito (ChäoS;HEAd OP)
# 40 : "Nanka Shiawase" by the OYSTARS (Flame of Recca OP)
# 39 : "Dream Star" by the generous (Skip Beat! OP1)
# 38 : "Arigatou" by SunSet Swish (Ookiku Furikabutte ED2)
# 37 : "Don't say 'lazy'" by Aki Toyosaki, Yoko Hisaka, Satomi Satou and Minako Kotobuki (K-On! ED)
# 36 : "only my railgun" by fripSide (Toaru Kagaku no Railgun ED1)
# 35 : "Yokan" by heidi. (Kaichou wa Maid-sama! ED1)
# 34 : "Anata Dake Mitsumete'ru" by Ooguro Maki (Slam Dunk ED1)
# 33 : "Hidamari no Gate" by Jun Fukuyama, Hiro Shimono, Tsubasa Yonaga, Kazuma Horie (Special A ED1)
# 32 : "Let Me Be With You" by ROUND TABLE feat. Nino (Chobits OP)
# 31 : "Myself;Yourself" (Myself;Yourself IN)
# 30 : "flowin' ~Ukigomo~" by Yuu Asakawa and Houko Kuwashima (Harukanaru Toki no Naka de: Hachiyou Shou ED)
# 29 : "My Secret" by Saaya Mizuno (Kaichou wa Maid-sama! OP)
# 28 : "Mosaic Kakera" by SunSet Swish (Code Geass: Hangyaku no Lelouch ED2)
# 27 : "Colors of the Heart" by UVERworld (Blood+ OP3)
# 26 : "Hitomi no Kotae" by Noria (07-Ghost ED)
# 25 : "Life is Like a Boat" by Rie Fu (Bleach ED1)
# 24 : "Kuroge Wagyuu Joushio Tanyaki Roppyaku Hachijuu En" by Ai Ohtsuka (ED1)
# 23 : "FEELING" by AciD FLavoR (Hakushaku to Yousei OP)
# 22 : "I ♥ U" by THE*SCANTY (Full Moon wo Sagashite OP1)
# 21 : "Tears Infection" by KAORI (Myself;Yourself OP)
# 20 : "Brand New Map" by K (Blood+ ED4)
# 19 : "Beautiful World -PLANiTb Acoustica Mix-" by Hikaru Utada (Evangelion: 2.0 You Can (Not) Advance ED)
# 18 : "Eternal Snow" by Changin' My Life (Full Moon wo Sagashite ED3)
# 17 : "Hikari no Kisetsu" by Suara (Asatte no Houkou OP)
# 16 : "Gorgeous 4U" by Jun Fukuyama, Hiro Shimono, Tsubasa Yonaga and Kazuma Horie) (Special A OP2)
# 15 : "New Future" by Changin' My Life (Full Moon wo Sagashite ED1)
# 14 : "The score in blue" by Stella Quintet (Kiniro no Corda: Secondo Passo ED)
# 13 : "Northern Lights" by Megumi Hayashibara (Shaman King OP2)
# 12 : "Change" by J-Min (Hanasakeru Seishounen OP)
# 11 : "Haruka, Kimi no Moto e" by Tomokazu Seki, Naozumi Takahahashi, and Kouki Miyata (Harukanaru Toki no Naka de: Hachiyou Shou OP)
# 10 : "Sakasama no Chou" by SNoW (Jigoku Shoujo OP)
# 09 : "Yuzurenai Negai" by Naomi Tamura (Magic Knight Rayearth OP)
# 08 : "Kimi no Shiranai Monogatari" by supercell (Bakemonogatari ED)
# 07 : "NightmaRe" by SNoW (Jigoku Shoujo Futakomori OP)
# 06 : "Hajimari no Kaze" by Ayaka Hirahara (Saiunkoku Monogatari OP)
# 05 : "Kazemachi Jet" by Sakamoto Maaya (Tsubasa Chronicle 2nd Season ED)
# 04 : "Life goes on ~side K~" by CHEMISTRY (Antique Bakery OP)
# 03 : "Butter-Fly" by Kouji Wada (Digimon Adventure OP)
# 02 : "Sousei no Aquarion" by AKINO (Sousei no Aquarion OP)
# 01 : "Brand New Breeze" by Kanon (Kiniro no Corda: Primo Passo OP)
# 00 : "Zankoku na Tenshi no Thesis" by Yoko Takahashi (Neon Genesis Evangelion OP)
July 20th, 2012
★ ☆ Graphics Corner [minis & avatars & signatures]
★ ☆ Graphics Corner [profiles & display pictures] SO SAD... WAITING FOR IMG TO WORK
[img]http://i299.photobucket.com/albums/mm283/Shrinnah/Full-Profile.png[/img]
13th Profile Lay-out // March2013
Orange by Takano Ichigo. Recycled from my previous layouts, monochrome-themed yet again
11th Profile Lay-out // October2012
Deco*27. Originally made in August, competed in the October contest
10th Profile Lay-out // August2012
Mishounen Produce. I got lazy again halfway through so it ended up simple and I like it.
9th Profile Lay-out // August2012
Toumei Answer. Themed after a vocaloid song written by Jin. Transition from yellow to pink.
8th Profile Lay-out // August2012
Kokoro Connect. First time exploring a new color combination, blue & yellow.
7th Profile Lay-out // August2012
Ao Haru Ride v1. This is my very first profile themed after a manga.
Ao Haru Ride v2. Made a different version with gif this time, changed the header twice.
6th Profile Lay-out // July2012
La Corda D'oro. Plan to make it longer but went on lazy mode before having the mood to do it.
5th Profile Lay-out // February2012
Mini-mini Profile. For all my mini-profiles, please refer to this blog instead.
4th Profile Lay-out // November2011
Hunter x Hunter. Never mind the quote on the header, I like making things up after all.
3rd Profile Lay-out // October2011
Uta no Prince-sama. I made this during our final examinations and surprisingly, it won third place.
2nd Profile Lay-out // August2011
Yellow feat. Utau. So bright! I wanted it to be lively but went overboard, I guess.
1st Profile Lay-out // July2011
Dolls feat. Eiri v1. My first profile ever and I'm proud. Not bad for a first-timer.
Dolls feat. Eiri v2. Made revisions especially the setting for the pixel font.
★ ☆ Graphics Corner [all made for others]
Profile Lay-out // Razziell
Mawaru Penguindrum. Someone told me the colors made her remind of yogurt.
Profile Lay-out // Mei-kun
Aquarion EVOL v1. Did only the header for this one - not my style.
Aquarion EVOL v2. Haven't seen the series yet so I used my usual style - pink&peach.
January 8th, 2012
★ ☆ FALC Newsletter
GOOD DAY FALC MEMBERS! This may be too late already but let us greet you a BELATED HAPPPY NEW YEAR, at least. We're having our very first newsletter to start the New Year. Hoooray~ This will be extra long so we're hoping you'll read this until the very end. And now, first things first:

FILIPINO ANIME LOVERS CLUB (FALC)
FALC, as the name says, is a MAL club for Filipino anime lovers – pure or half – and for everyone who's interested to know more about the Filipino culture. Visit once in a while and leave a comment here. Who knows, maybe you'll be able to meet someone in your area who's pretty much the same as you – one who loves anime. We would really be glad to see the club alive with your comments. Don't forget to be friendly, ok? Also, in here, you could find different threads that may catch some of your attention. Some of these threads are:

Get To Know (Introductions)
New to the club? Here's the place for you. No need to be formal, just say anything that you think describes you best. Introductions usually go here but the best thing about this thread is that you get to know more about the other members. If you haven't made any introductions yet, better check this out now!

Member Arts Encore
Love to draw? Then share and post your drawings and any artworks in this thread. Don't be shy. Everyone here would love to see your work of art. There are also discussions and exchanges of ideas and opinions here. We expect to see your drawings soon.

Other social networking Sites
Besides MAL, don't you think it's nice to keep in touch with other members in other social networking sites and better, to know more about them? Post your Facebook, Twitter, Skype, MSN or any account where you want people to add you here. Don't worry, this is totally not compulsory. Feel free to post ONLY the sites you want.

FALC Profile Picture
All discussions about graphics go here - talks about changing the profile picture, organizing a signature contest, making a lay-out, etc. Currently, the topic is about the next profile picture for the club. If anyone's interested in making graphics, we invite you to go here and help us. After the profile picture is done, we're planning to organize a contest on signatures too. Interested to join? Just post.

Get your FALC Badge Here!
This is a new club idea. Click the link and find more about this in the thread.

If you want to show yourself, you could always post your picture here. Plus there's also discussions about conventions and expos, current anime news, fansub of your choice, games, anime diary and many many more. Well, we'll see you at the club. Have a good day FALC Members :D
PS. The underlined titles are linked to the thread. Kindly click them to visit the thread. Thank You~
August 17th, 2011
★ ☆ My Portfolio [MAL awards & others]
Signature Awards
2nd place // November2012
GFX Sig Challenge. Cute
2nd place // December2011
GFX Mini Challenge. Freestyle
2nd place // November2011
GFX Sig Challenge. Friends
Profile Awards
5th Place // March2013
Orange by Ichigo Takano. This time, it's so red! Yeah, I like monochromes.
Profile of the Month // October2012
Vocaloid feat. Deco*27. It is so green! I didn't expect it to win first place, really.
4th place // August2012
Ao Haru Ride. I like the manga but not as much as I liked it before.
3rd place // October2011
Uta no Prince-sama. My very first decent profile ~ Made before the final exams.