Private Entry
Private Entry
June 27th, 2012
Sekai fukkatsu
I'm making a little story of my own here and i thought i might as well share it with all of you who might wanna read it. I'm saying this now though I am not a writer or anything and i suck at writing so please don't hate me if it sucks. Also just as a heads up there is talk about boobs and panties in this and there is a little bit of cussing. So you have been warned. Also i do like feedback on how i'm doing so feel free to comment on anything.
And i will be updating this as i type everything out.
Also because of how much content there is i will be putting every chapter in a spoiler box.
So i guess enjoy if you take the time to read it.
Prologue


During the year of 2012 when talk of the apocalypse had died down and everyone had started to think nothing of it, the worst had occurred. Someone was found eating someone else on the street! It all started in Kaisuka, a small town that was in the middle of everything yet was isolated from all of the other towns and city's. When the apocalypse struck Kaisuka turned into nothing but a complete uproar and state of chaos as everyone was slowly turning into a flesh eating, rotted dead pile of animated flesh that could only be killed with a well aimed shot to the head or the full destruction of the body itself.

The zombies themselves where different from what everyone thought they would be like though, where everyone thought a zombie would move slowly, have no strength, and have rotting flesh that was usually known to be maggot infested, These zombies where different, they actually moved at a fairly decent speed, still not very fast but a good short jogging speed at least. But only in the earlier stages of the disease. As for their strength it was a lot lower than a normal humans but they can still lift small objects like a nice sized rock and a crowbar. They can't do much with it because their brains are all but completely destroyed/rotted. The zombies that have just freshly been taken over by the disease look almost completely normal to that of a human, the only difference is the fact that their eyes are half clouded by a white haze, and after a couple hours they will most likely have blood dripping from their mouth. And it only got worse as the numbers for this happening increased.

What was slowly starting to happen was the "apocalypse" that everyone had started to pay no mind too. Although the apocalypse they were thinking of was a super volcano erupting and covering at least half of the earth in soot and destruction. Yeah that would have been bad but what they weren't expecting was the zombie apocalypse to start out of nowhere. Now that it's started we have nothing to do for it with no preparation and no warning beforehand, and with everyone hiding behind the comforts and little protection of society they had no protection from this. But on the day of the first occurrence a young girl had gained her wings and became aware of what was happening before it even started. This girl was only 15 years old, but she is 5'6" tall, had long dark purple hair reaching down to her knees, incredible agility and strength for her age, average sized breasts, and 3 katanas and a titanium ring just slightly larger than her fist with 3 chains attached to it. around her waist. And her name is Ayase Akuma. Ayase and her childhood friend Nanase who is the 2 years older than Ayase with deep red hair, fairly large breasts, a fairly perverted mind, and about the same height as Ayase. They (and a couple of other scompanions each specialized in their own category of expertise) are the only ones keeping life on earth from becoming nothing but a big sphere of zombie madness and (as Nanase would say) pervy zombies!

Chapter 1


A loud "thud" came from outside in the courtyard. "What was that noise?" Ayase asked her childhood friend Nanase as she heard a loud thud outside of the rundown abandoned house that they were staying in for that last couple days.
"It better not be another zombie, I think I've seen enough of them in the past 2 weeks to last me a lifetime."
"Well if it is then we have our morning workout for the morning. And judging from the sounds we might have to go back on the run for a little while."
"Aww man and just as I was starting to get comfy in this place..."
"Well for some reason they always come after me and there's not much we can do about that."
"I know but still when do we get to just sleep and relax. And maybe even take a long hot shower or even a bath for god sakes Ayase?"
"Don't worry Nanase I promise you then next house we stay in will have running water and a bathtub. And maybe we can get some new clothes instead of these ripped up ones. My breasts are getting a breeze from these holes up in the top of my shirt."
"Don't worry I know how you feel, I'm getting a slight updraft over here myself But at the moment let's take care of our guests here and then we can go house hunting, sound good to you?"
"Definitely"
"Ayase, you mind giving me a katana to use?"
"No problem I have 3 on me!"
"Are ready for a workout?"
"Am I ever! This is what I get up in the morning for!"
As Ayase and Nanase run into the fray of maybe 300 or so zombies they start to hack and slash their way through the zombies, Nanase with her 1 katana just taking on the stragglers and Ayase dual wielding her 2 katanas and decimating everything in her path with the speed and killing intent of that of a bloodthirsty demon, while she just starts playing around with the battle and jumping from spot to spot while taking down waves of zombies in mere seconds! And in the next half hour 300 or so zombies were reduced to just a pile of rotting flesh and stinky blood. And as the 2 girls look at all the dead bodies they just look at each other and laugh while starting to walk away to look for a new temporary shelter.

Chapter 2


"Aaah Ayase we've been walking for 2 days now and we've still yet to find a new home and my bra is just about at its limit, and I don't want to walk around with my boobs hanging out!"
"Just calm down Nanase I think I see a pretty decent house up there, and it looks to be in pretty good shape too. Maybe we can find you a new bra there."
"Finally, and hopefully we can have ourselves a shower to and maybe even a little sit on a bed and some sleep and oh my god I can't wait! Let's go now!"
"You go on ahead but take a katana with you because..."
"Because there might be zombies and blah blah blah. Don't worry I'll be fine Ayase."
"Fine, but walk because your bra doesn't look like it can take a sprint."
"Oh fine...but the same goes for you."
As Nanase grabs Ayase' boobs from out of nowhere.
"Hey Nanase stop it my bra is going to break if you keep doing that!"
"So what if it does it's not like there are any boys around and we are alone here. Anyways if a zombie shows up it's not like it's going to grope you or anything."
"I know but still I don't want to walk around half naked, there are still a few people who are still humans and not zombies you know. For all we know we could be being watched as we speak!"
"Oh yeah that's right...well if there are any boys out there then they must be a little shy now to be coming out and saying hi to us pretty little things."
"Nanase didn't you want to go get a bra and a shower? Let's go I could do with a sit myself."
"Ok Ayase, but I call dibs on the shower and clean panties. Ok?"
"Fine Nanase you can have first dibs on those, but I call the bed if there is one. Deal?"
"Deal"
As the 2 girls started to walk towards the house they notice that there is a car parked there along with a pool out in the front of the house. And as they take a closer look they notice that there are signs that someone was living here very recently.
"I thought this part of town was abandoned and that there wasn't supposed to be any kids or people still around here, so what's going on Ayase?"
"Maybe there are some survivors still left in this god forsaken heap of garbage people used to call a town. Well we might as well check it out."
As the 2 girls walk up to the 2 story house Ayase notices that there is smoke coming from the chimney on the right side of the house.
"Nanase get back now!"
As Nanase jumps back there is an explosion on the right side of the house.
"Aww well there went my chances of getting a shower..."
"Nanase focus we have more important things to worry about, like the fact that zombies hunt by sensing both heat and sound both of which were caused by that explosion, we are going to have a big workout today!"
"Aww man and just as I was starting to enjoy being lazy I got to get active again? Ah well what are you going to do? Ayase, my katana please."
As Ayase tosses Nanase her katana zombies of all shapes and sizes of the zombie species start to swarm the area, their numbers too great to count.
"Nanase you keep the house guarded and I'll branch out and cut their numbers down by maybe 2,000. Hopefully my bra will last that long."
"Ok. Just make sure not to flash any boys ok."
"Nanase! Hahaha well that's why we're friends now isn't it. Just make sure to focus, you got that."
"Don't worry about me, although when it cools down a little I don't care if anyone's around I'm taking a bath in that pool, ok."
"Fine but make sure you get rid of at least 950 or so zombies ok."
"Just get going ok, I want to try a new trick out here but I want to keep it a secret until I perfect it ok."
"Ok, just don't strain yourself too much with making a big enough spark."
So Ayase unsheathed her 2 katanas and ran into the fray of zombies cutting down 3-7 zombies with each swipe of her blade, and as she started to run around hacking and slashing her smile started to grow and her speed and momentum increased until finally she jumped up maybe 20 feet into the air and then dived straight down with a spinning motion that as she started to get near the ground was creating a small cyclone from the intense speed that she was spinning at. And when she finally hit the ground a small burst of wind exploded as she landed perfectly onto the ground with her katanas hugging her sides and as she's sitting there on the ground the zombies start to crowd around her again until she starts to spin again with demonic speed ripping apart anything her blades come into contact with.
And over at the house Nanase is preparing her technique for battle.
"Now if I remember correctly I need to strike the tip of the blade just perfectly with the zombies head so it grazes it and then jump up right as it hits the center, and finally shift my weight downwards so I fall right down on it and then as my feet hit the ground I move the katana as fast as possible on the ground to set it ablaze and give it a small shocking property. God this will be difficult…well you learn more from failure than from success so I may as well give it my best shot!"

As Nanase started to run towards the group of zombies she prepared her body for the shock it was about to receive from such an advanced technique. She ran right up to the closest zombie she could find and started to attempt the technique. But as she started to swing she noticed that the swing came too late and it cut too deep.
"Damn it that one was too deep!"

As she attempted it again she got the timing for the first swing down and she got the upward cut in the center into the jump but as she hit the ground her body felt the shock of hitting the ground with so much force.

"Waaaah why does this have to be so difficult! Well I might as well try and suck it up next time and see if that helps, hopefully here after a few times of trying it I'll get used to the shock."

Her next attempt was a success, after landing she sucked up the pain and proceeded to swing the tip of the blade across the ground in a very quick and powerful motion that was so strong and fast that it heated the blade up to the point where it was lit ablaze from the speed of the strike.

"Yes! Finally now I can really bring some carnage to this little play date, time to burn me some undead perverts!"

Now with her katana ablaze Nanase runs into the fray of zombies and starts to hack and slash through them with the most elegant and playful manner of sword strikes and maybe a high kick or 2.
And now after about 1 hour and 45 minutes of fighting Nanase looks at the battlefield.

"God I think I stretched out my legs a little too much from all that running around. And I think the elastic in my panties has almost given out now. And my bra just gave away in the middle of it all, damn those stupid generic panties and bras!"

And as Nanase finishes up what she's doing over at the house Ayase is still fighting the zombies with demonic ferocity and speed. And with what seems to be about 1,500 to maybe close to 2,000 zombies dead already she did a little more than clear a path and bring their numbers down. She just destroyed about half of the zombies in the state in less than 2 hours! And after her final kill against the fattest zombie she's seen so far she sits down and says.
"God I'm so hungry and filthy! Nanase better of either finished her bath by the time I get back or she's going to be waiting until I finish mine. And if she doesn't get a bra first then I'm taking first dibs because this stupid thing didn't last very long at all, after the first 200 or so kills it snapped and that whole time I was flashing every zombie I killed...I better get some sleep tonight or else there's going to be a zombie extinction in one nights time."

Chapter 3


After the killing the last zombie Ayase started to walk back the house that blew up and caused this whole mess, hoping to either see Nanase on the way or sitting in the house. And after half an hour of walking she came up to the house and what did she see? Nanase in the front lawn sitting stark naked in the swimming pool washing herself off.

"Nanase! What are you doing sitting out here in the open taking a bath in a swimming pool?!"

"What's got you so hyped up? I said I was going to take a bath in here after I was done. Don't you remember? Also I see the upper states have finally claimed their independence."

"Oh fine take your bath but I'm going to take one too when you're done, and before you ask no I'm not going to join you. I know how grabby you are when you're taking your baths...and yes my piece of crap bra broke before I even got to do anything...did you check to see if the house had any clothes?"

"Yes I did, I got a pair of panties and a bra out for you already. It's sitting on the bed. And are you sure you don't want to join me? The waters nice and hot and I plan on soaking in here for a while."

"Yes score there's a bed! And I'll wait until you're done, I don't mind re-heating the water. I just want to soak in there alone and clean off all this blood and such, change into some clean and un-ripped and destroyed clothes, and sit down and go to sleep for a little while."

"Fine suit yourself, but you can't escape me tonight when we get a little sleep together because I'm not sleeping on that floor."

"Wait shouldn't one of us stay up and keep watch?"

"No need for that tonight, I got a little defense system ready just in case of anything. And anyways I think we took care of most of the zombies in the immediate area if not all of them, and anyways I know how demonic you are in a fight so I doubt any are left alive back there."

"Well I guess you could say that they are all mince meat now..."

"See, now tonight is going to be a relaxation night ok"

"Ok Nanase. Just please make sure you set up the defense system you have because I doubt I'll be waking up anytime soon."

"Don't worry about it I'll take care of everything for you, all I want you to do is go get changed and sit down and relax."

As Ayase walked away and opened the door to the house she noticed that it was actually in very good shape for having a section of it blown off earlier. And as she started to walk around and observe what was all in the house she noticed that there was a computer sitting in what seemed to be the study of the house. As she walks up to it she notices that it's already on and the internet has been started up already.

"I wonder why this even works, and how is there a connection during a time like this?"

She starts to play with the computer and look through the search history. She notices that there are a ton of recent searches from a very short while ago.

"Well now it looks like Nanase has been having a little bit of fun, well if she had the time to play on the computer then that must mean that she got that technique to work, because otherwise she would have never of been able to defeat that many zombies in such a short amount of time. Lets she what she looked up here."

As she scrolls down she notices a few pages on information on keeping a flame to last as long as possible and burn as hot as possible, a page on how to shrug off immense pain, and...Many pages of...porn sites.

"For god sakes Nanase! When will you ever learn?"

After she deletes the search history for the porn sites she shuts off the computer and walks over to the bedroom, after noticing the clothes that Nanase put out for her she starts to undress the few scraps of clothes that she has on and grabs a towel to wipe herself off before putting on the panties and bra while waiting for Nanase to finish her bath. And as Ayase walks over to the bed she starts to remember the first time that she and Nanase met each other.
It was 10 years ago back on the 16th of January, Ayase was just a little girl back then and Nanase was still kind of a little girl but she always acted a lot more mature for her age. When they first met each other they didn't know what they thought about each other. They just exchanged a couple words from time to time, just your basic hello and such. But then on the 29th of January Nanase was being bullied by a boy twice her size who thought he was all tough and could do whatever he wanted to do. Ayase being kind of a tomboy loved to train in martial arts and fighting from her grandfather even though she was a little girl, so she ran into the fray and beat up the boy not knowing who he was or what he was trying to do. She kicked him in the legs a few times to throw off his balance and kicked him in the jaw a time or two with a couple jabs to the chest. When he finally ran home crying she decided to look at who the boy was bullying, She noticed it was the girl who was a couple years older than her with the weird hair color. Not really knowing if she was impressed or scared at what she did to the boy she tried to play it safe and asked the girl.

"Are you okay? Did he hurt you anywhere?

"No he didn't. But I must say...that was the coolest thing i have ever seen! Can you teach me to do that?"

"I don't know. I can try to teach you if you want me to. And you really thought it was cool?"

"I'll learn anything you have to teach no matter what it is! And of course it was cool; I wish I could have done it to that pervert myself!"

"Per...vert...?"

"Yeah you know someone who wants to get into your skirts and such. Guys who look at you like they want you and think they own you. That's a pervert."

"Umm ok...thanks for telling me about that."

"No problem, anything to help keep us girls stay pure...for now at least. Hey do you want to be my friend? I don't have any but I would like you to be my one and only friend"

"Sure, I would be glad to be your friend!"

"Will you pinkie swear to always be there for me? And I'll pinkie swear to always be there for you."

"Of course, it's a pinkie swear then!"

And as Ayase looks at her hand she hears a voice coming from outside,

"Hey Ayase the bath is all ready for you!! You can go ahead in any time! And I'm going to get dressed and then I'm going to set up the defense system then we can go to bed, ok!"
"Okay I'll be out there in a minute!"
Ayase looks back at her hand one last time and then looks back up and proceeds to walk to the door. And as she opens it up and looks outside of Nanase she notices that she is doing something in the grass...naked.

"Nanase! Just what are you doing?!"
"Hmm. I'm just setting up the defense system, why do you ask?"
"Umm hello, your sitting outside in the grass naked without a shred of clothing on you! Thats whats wrong!"
"Well it's nice and freeing to walk around naked, you should loosen up and try it Ayase, i promise you'll like it"

Nanase gets up and walks over to Ayase and takes off all the clothing on Ayase.

"!! Nanase just what do you think your doing!"
"helping you loosen up, what else would i be doing?"
"Umm maybe putting some clothes on yourself would be a good start!"
"But thats no fun and you know it."

May 31st, 2012
Things in general that i have made.
I tend to sketch anime characters and all that from time to time...I'll be uploading more when i get the chance (and when i decide to do some more sketching).
So feel free to comment on anything i upload in here if you want...i may not be a professional artist or anything but i'm not that bad.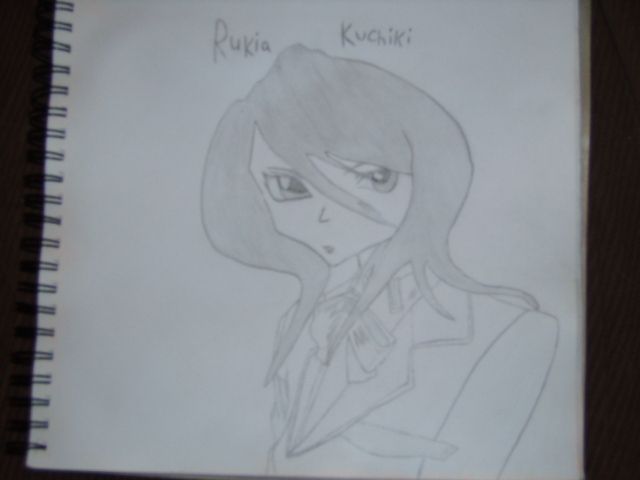 Rukia from Bleach
Chibi Gaara
Also I make things on Gimp so i thought i may as well put them here. I'm still a novice with it but they aren't too bad.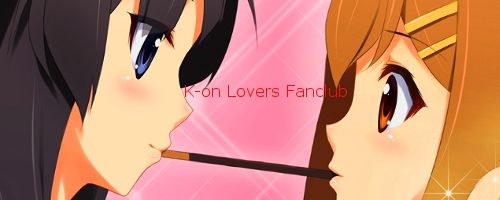 Feel free to comment on anything you see.