September 1st, 2010
About Me

Name:
Kidono-chan
Sex:
Female
Location:
Califorina
Age:
Old enough to know better
Obsession:
Left handed people (it a very HUGE obsession)
Favorite Number:
13
Favorite Color:
Black


I've been watching anime since I was a kid but only really got into it the past couple years. I'll watch pretty much any kind of genre, as long as it looks interesting. I prefer to watch subs over dubs. I have a love/hate relationship with dubs. There are few anime I enjoy the hole series being dubbed. But most the time I will normally only like one or two of the dubbed voices and dislike the rest of the cast. I'm thankful to all the fansubbers out there cause without them I wouldn't have been able to see alot of the anime I have watched/watching. I'm a HUGE CLAMP fan. My three favorite manga by CLAMP are Tokyo Babylon, X, and Tsubasa. Have no clue how many times I have re-read all of them already.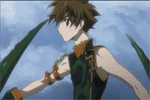 I also love yaoi. If you don't like it, that's fine with me; just don't complain to me on why it's "wrong" in your eyes. I don't care. There are a ton of novels I would love to read but sadly I can't read japanese and most of them are not licensed in America. So I luck out. I was sadly disappointed with the Tsubasa anime. Even though the first season was ok the second lacked. But the OST for it was awesome.

Voice Actors

♥ Miyano Mamoru♥
♥ Namikawa Daisuke ♥
♥ Fukuyama Jun ♥
♥ Sakurai Takahiro ♥
♥ Irino Miyu ♥
♥ Suzumura Kenishi ♥
♥ Kamiya Hiroshi ♥
♥ Nakamura Yuuichi ♥
♥ Seki Tomokazu ♥
And many many more just haven't added them yet. =P

English Voice Actors

♥ Chris Patton ♥
as Sousuke and Creed
♥ Jason Liebrecht ♥
as Train Heartnet
♥ Travis Willingham ♥
as pretty much ever role I've heard him do
♥ Vic Mignogna ♥
as Edward and Kurz



I enjoy listening to kpop/rock, jpop/rock, twpop/rock, cpop/rock.
So if there's any groups you think I should listen to, let me know and I'll check them out. Can't pick a favorite group out of all the ones I've listened to. There are just to many.



I've also seen a fair share of dramas. As long as it looks interesting, I'll watch it or at least give it a try. Again if there is anything you think I should check out, let me know.
♣ Drama List ♣
So that's some stuff about me. I really suck at writing stuff about myself so if you want to know anything else, feel free to ask. But I may not also answer some stuff.