09-27-10, 10:52 AM
My Milestones
Some people post this kind of thing in the body of their profile. Things like 100th anime watched!, broke 100 days, etc. Being the stat monkey that I am, I can't help but keep track of things like this myself, but I decided to keep this in my blog for two reasons.
- No one else cares
- The mini-reviews would take too much space on my profile.
The mini-reviews would also help me to remember what I was thinking as I finished each series and give me a little bit of an idea what kind of viewer I was at certain times in the event that my tastes begin to change greatly.
1st Anime Watched: 8 Man After
7/10
For a lot of people, Elfen Lied was their first anime, and the shock of "OMG BLOOD TITS PROFANITY" kind of signaled that these were cartoons for grown-ups. With the exception of the tits, 8 Man After fired off this same signal for me. When I was twelve, seeing a detective get stabbed, thrown out of a window, and become a Japanese Robocop that tore criminals' arms off was the most amazing thing to me.
I actually made an assumption on the grade of 7/10, since by the time I'd started my account here, it had been about thirteen or fourteen years since I'd seen it. Once I was able to "re-acquire" it, I gave it another watch and it actually feels like an appropriate grade for it.
100th Anime Watched: Hidamari Sketch x ☆☆☆
8/10
I'm a bit of a fan of the Hidamari Sketch series. However, despite the addition of two new characters, it felt like the comedy slipped some when compared to x365. The first half was still as gut-bustingly funny as it had always been, but the second half seemed to slow down on the humor quite a bit. I'd still gladly watch Hoshimittsu at the end of a Hidamari Sketch marathon anytime, though.
EDIT: No I won't, they're coming out with a fourth season! HAH!
150th Anime Watched: Soreyuke Marin-chan
5/10
A rather luckluster hentai. The Cutey Honey-like "transform into different outfits in the middle of the action" aspect sounded like it had promise, but it mostly just stuck to dirt-common fetishes, like nurses and school swimsuits. I know it should go without saying, but the dubbing was pretty terrible, too. I think the only reason I didn't rate this below average is because I have a thing for drill hair, sling bikinis, and elbow gloves, and the blonde girl appearing at the end of the second episode had all three.
Also, best after-sex face ever.
200th Anime Watched: Jiburiru: The Devil Angel 2
7/10
Not bad. Could've used less tentacles, though. Not that I don't like tentacles, it's just that in a series that has angels and devil girls, I would expect more sexual interaction between the two, but nearly every meeting between both sides ended with "Yeah okay, I'll just make the tentacles do all the work." Very little action between the angels and the devils, and absolutely nothing with Misty May. It seems odd that she wouldn't get any action in four episodes, despite being one of the main villains...now that I think about it, did she even get any in the first Jiburiru series?
Also, something that really got my attention: The quality of the dub. Could it be? A hentai with a dub that's actually...GOOD?!
Actually, no. Saying it's GOOD would be giving it too much credit. It is, however, a lot better than pretty much all of the h-dubs I've seen. I'd say about 60% of the actresses do a pretty good job, but those last few still did fairly poorly. Admittedly though, at least one of them gets better in the last two episodes. In particular, I'd have to say I really liked Rococo's VA. The devilish rasp she gave her voice was an especially nice touch, and really made me look forward to seeing her in action more. Much to my dismay, she only got two decent scenes. Still mad that she died at the end.
Spoilers, by the way.
250th Anime Watched: Panty & Stocking with Garterbelt
9/10
If memory serves me correctly, someone on the forums described this show as "Genndy Tartakovsky with the safeties off", and that sounds pretty accurate. Thirteen episodes of "dick & fart" jokes, and I loved every fucking minute of it.
God damn, but that ending, though...
300th Anime Watched: Septem Charm Magical Kanan
6/10
Number 300 came up surprisingly quickly after #250 because of my "at least one porn a night" goal at the time (which I ended up floundering almost as quickly).
I actually took the time to watch
the non-h series
before starting this because I thought maybe I'd get the storyline of it a bit better, but as it turns out, Kanan just starts the series over, chops the filler, condenses the important parts, and adds some hard rape. However, watching Canan first did allow me to go into this series with a favorite character already decided, which made it that much more satisfying when I got to watch Emi Kojima sucking cock.
350th Anime Watched: Nichijou
10/10
I'm the kind of person who doesn't like to start on an anime until it finishes airing, so back when people from another site I frequent constantly posted links to YouTube clips of this series, it was torturous as Hell waiting for it to finish. Thankfully, I was not disappointed when I finally got to start on it.
I tend to like absurd "random humor" series like this, and it does a spectacular job at it without petering out and becoming unfunny 1/5 of the way into the series (Excel Saga) or trying too hard to be random without actually being humorous (FLCL). Nichijou had me rolling from the word go. I was ready to give this series a ten by the fifth episode provided it kept that same momentum for the rest of the series, and considering I've only given out a single digit's worth of tens so far, I think that's saying quite a bit.
50 Days Exceeded: Lucky ☆ Star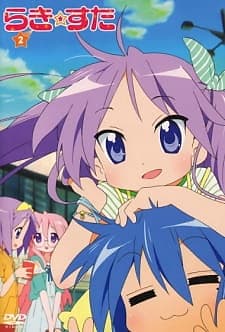 10/10
Yeah, this is my 7th time watching it. Blow me.