09-20-12, 7:19 PM
Fate/Profiles 2.0 "Rider"
Class Name: Rider
Full Name: Doctor Johannes Faustus
Appearance: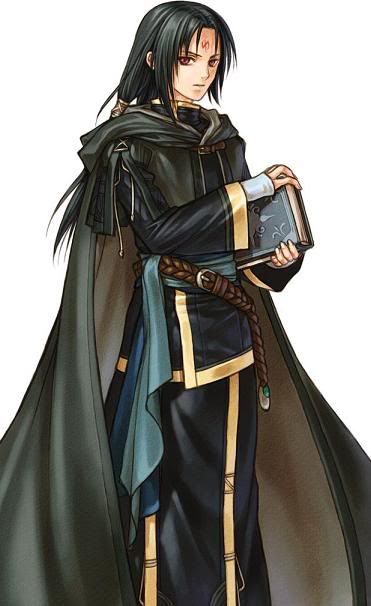 Aliases: Necromancer, Alchemist, and 'Faust'
Gender: Male
Alignment: Chaotic Good <-> Lawful Evil
Personality:
"The reward of sin is death? That's hard."- Faustus
-Trait: Intelligience- More knowledge then most me will ever need
-Trait: Wisdom- Philosphy born from said knowledge
-Trait: Curious- As a scientist, he always craved more of an understanding
-Trait: Scholar- Loves to read... pretty much anything
My Legend:
http://en.wikipedia.org/wiki/Faust
Weapons: Wields a large black Deathscythe, as Mephisto was also believed to be an entity of death whom Faustus made a deal with.
Noble Phantasms:
1.) Mephistopheles: Beast Paradigm
Rank: A
Type: Support/Anti-Army
Range: 1-1600 meters
Max Targets: Anyone in said field
NP Description: The demon WOMAN known as Mephistopheles (Mephisto) made a contract with Faustus. The exchange was infinite knowledge for his Soul, he got his knowledge... and Mephisto herself. This is one of the 3 forms (Paradigms) of Mephisto, in Beast Paradigm she takes the form of a large pseudo-dragon on which Faustus can Ride to combat his enemies with aerial attacks of magic from his spells or Dragonfire from Mephisto. Or if Mephisto so desired she coul use her claws, tail, wings, and teeth to tear the enemy apart. While in this Paradigm, Faustus's cannot be reduced, increased, or changed in any way.
2.) Mephistopheles: Avatar Paradigm
Rank: A
Type: Support/Anti-Personnel
Range: 1-100 Meters
Max Targets: Anyone caught up in the blast
NP Description: While in this Paradigm, Faustus retains his mind as he wields Mephisto's Magic with ease. In appearance, he seems like himself but gains an... aura resembling a horned red dragon-lady surrounding him and mirroring his movements. While in this Paradigm, Faustus can fuse Dragonfire and Hellfire together to create even more potent 'Black-Fire' or create all original fire-magics. His Magecraft Skill is promoted to [EX] ranking while like this, and his Mana and Luck Stat promote to [EX] Ranking as well. However there is a count down: This form can only last 24 Posts per battle and then he reverts to normal, and Mephisto takes on her Beast Paradigm. The 24 post limit comes from how his Soul would have been collected after 24 years if he had not been saved by God.
3.) Mephisopheles: Possession Paradigm
Rank: A
Type: Support/Anti-Army/Anti-Personal
Range: 1-800 Meters
Max Targets: Anyone too scared to move
NP Description: Like the Avatar state... but instead of 'riding' or 'wielding' Mephisto's Power. She is instead 'riding' HIM! In this form his body is 100% dominated by her and 'normal human' limits on the body are ignored. In this form his Stat Rankings for Strength, Endurance, and Agility are increased to [EX]for the duration of this Paradigm. However like the Avatar Paradigm, it only lasts 24 Posts per battle.
Class Skills:
Magic Resistance- B
Riding- A
Skills:
Golden Rule- A
Magecraft- C
Mental Pollution- C
Librarian of Stored Knowledge- B
STRENGTH: D
ENDURANCE: D
AGILITY: C
MANA: C
LUCK: C
Spell List: